Uncovering the DNA
of a Profitable Future
The Accelya Air Transformation Lab initiative set out to uncover the DNA of a profitable future for airline commerce and to include your airline voice at the center of the new thinking and technology to make it happen. A milestone of the Air Transformation Lab activity, the 'Airlines: A Path Back to Profitability' report, is now available to download.

Download to discover how your industry colleagues are managing this crisis and how your airline can progress further, faster.

Highlights:
96% of airline leaders like you believe the situation has created opportunities for positive transformation
Many of you are working to strengthen your relationships with customers as by 2023, you anticipate direct channels (digital and offline) to account for 56% of bookings – a 12% increase in just three years
Interest in offer personalization has nearly tripled between pre-Covid and business recovery
A critical mass of your peers (31%) that plan to use NDC has already negotiated agreements with some or all of their GDS partners to sell NDC content (flights and ancillary offers).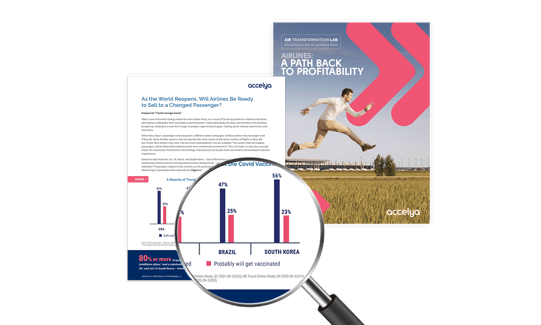 "This report is big. It's unapologetically extensive. And it is for you. We hope you will find it both informative and valuable",
Henry Harteveldt, President, Atmosphere Research and author of 'Airlines: A Path Back to Profitability' report